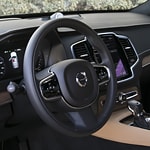 At our last Volvo Cars Bend team meeting, we attempted to pick the Volvo XC90 performance features we love most. We couldn't, but we narrowed it down to two for this blog post. The following are but two of many advanced, standout performance features that explain why the Volvo XC90 continues to be so popular and beloved in the luxury SUV category.
Advanced AWD W/Instant Traction
The XC90 boasts more than mere all-wheel drive. It has an intelligent electronic management system that manages and tweaks throttle, wheel power, engine torque, and wheel speed. The system adjusts to match the requirements of a given landscape or road condition. It delivers more power and Instant Traction to selective wheels for more stability on Bend, OR roads.
Unique Drive Mode Settings
Comfort, Eco, Dynamic, and Off-Road are the XC90's Drive Mode Settings. When you select a setting, the Volvo XC90 tweaks its own powertrain behavior to excel at sporty driving, off-roading, comfortable driving, or fuel-efficient driving.
Test drive the Volvo XC90 at Bend, OR Volvo Cars Bend today to experience its stellar performance in real-time.